Wing Night Special Tonight at Nepisiguit
09:00 AM - March 03, 2022
---
It is looking like a busy few days coming up with decent weather and plenty of sleds from out of town. Grooming last night saw the #1 on the complete California Lake Loop including all clusters, then Trail 22 up to the 22/301 intersection and back to Rogers Lake. The #2 was out of Nepisiguit and down to the Atlantic Host and back on Trails 19 & 23.
Don't forget our Wing Night special tonight beginning at 5pm. This week's sponsor is RH Frenette Group from Petit Rocher.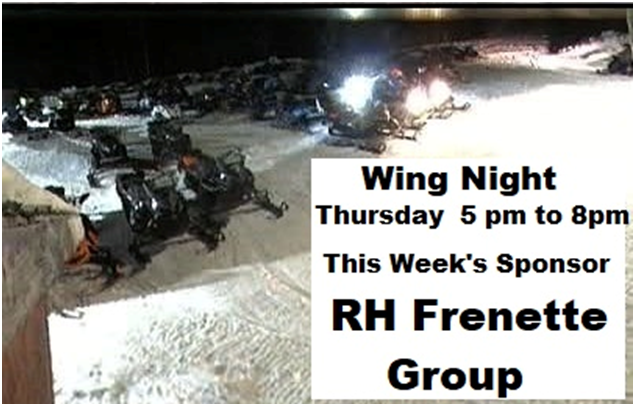 We have exactly 18 days remaining before the draw date of March 20 to purchase your Nepisiguit Club Lottery Ticket. We are over the 50% sales in tickets sold so far and if all tickets aren't sold, the draw will revert to a 50/50 draw as indicated on the ticket. We are asking those who haven't purchased their ticket yet to help us reach our goal of 1000 tickets. You can purchase tour ticket the easy way On-Line by clicking https://www.lottery.bathursttrails.com/ or pick up your ticket at our lodge. This is our only major fundraiser and we are counting on your support as this is a major item in going to fund the grooming of the trails.
ADVERTISEMENT
ADVERTISEMENT
10:00 AM - December 03, 2023
02:00 PM - November 27, 2023
09:00 AM - November 22, 2023
10:00 PM - November 16, 2023
ADVERTISEMENT
ADVERTISEMENT