Two groomers on the Trail this Morning
09:45 AM - January 16, 2020
---
Thursday, Jan 16th, Club #1
    A rather chilly -18 in Bathurst at post. This morning I'll talk about the snow we just got in the past 5 days. First we received about 15 mm of rain on Saturday, then we got from between 25 and 40 cm of snow on Sunday and probably up to 20 cm from Monday until Wednesday. Just suppose that we got the rain after the snow, then that would have been the perfect scenario. What we got with this 40 cm was so dry that there was a problem compacting it into the base and all was needed after the grooming was 4 or 5 Brap Brap machines come behind the grooming and tear the trails apart. (my 5 cents worth). 
    The #1 unit out of Rogers Lake is nearing Mt Carleton on the 504 at post and the #3 unit is nearing the end of its run on Trail 23 from the 19/23 intersection at highway 360 up to Nine Mile Shelter. We are missing the #2 unit (engine Problems) as it would have been doing the reruns out of Bathurst, but it is what it is. So the trail conditions are ranging from V Good to so so. The areas where we go through rough terrain are on the so so side and where we groom on established wood roads they are very decent.  See Map below
   Report on last night's supper at 10 AM.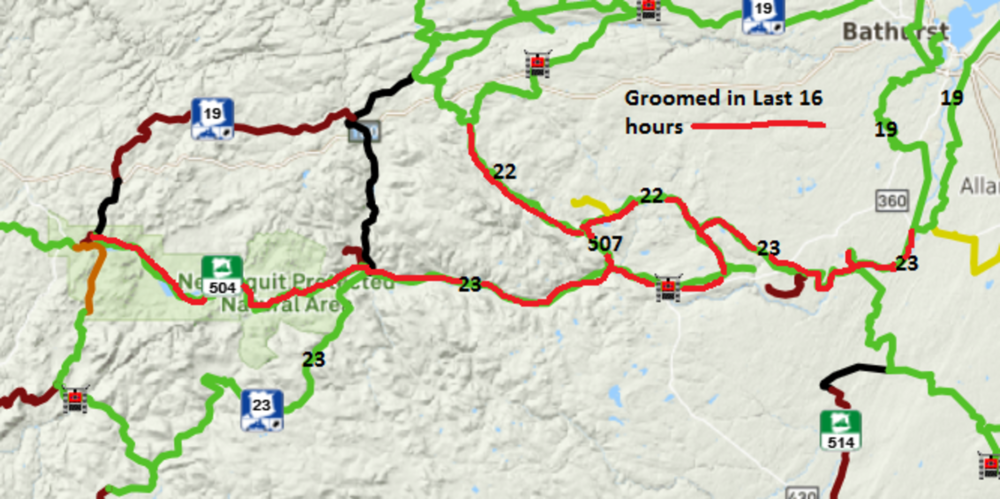 ADVERTISEMENT
ADVERTISEMENT
10:00 AM - December 03, 2023
02:00 PM - November 27, 2023
09:00 AM - November 22, 2023
10:00 PM - November 16, 2023
ADVERTISEMENT
ADVERTISEMENT