Trails in very good shape: + Update #1
10:00 AM - December 30, 2022
---
Update 4 PM: The #2 is just arriving from its run from Rogers Lake out to 507 and Trail 22 to the 22/301 intersection.
Good morning from Bathurst. It looks like Ron got the #2 unit running as it did the job on the 503 on Thursday. It turned out okay so now you have another loop that you can do in the trail system. Thanks to Charles and Adam from Moncton and anyone else that did give hand in cleaning this trail. Another big feat was the cleaning of "The Line" on trail 19. Thanks to Ricky Lavigne, Matt Hussey, John Valley and Corey Scott for getting this done. See pic below.
We may see a little snow in the next few days as Ron made this statement. "Next week I am moving the lamtrac (#2 unit) to our lodge and will start to work my way to town at least to Little River and see from there."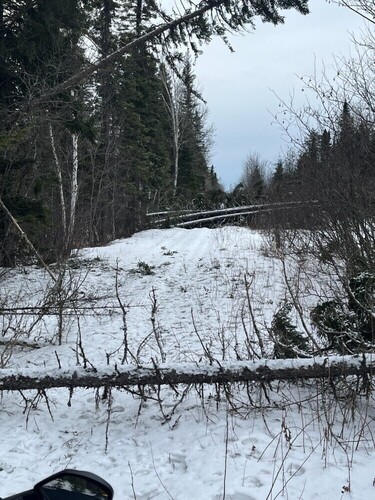 ADVERTISEMENT
ADVERTISEMENT
10:00 AM - December 03, 2023
02:00 PM - November 27, 2023
09:00 AM - November 22, 2023
10:00 PM - November 16, 2023
ADVERTISEMENT
ADVERTISEMENT