Trails Are Staying Good as we can Possibly Make Them
09:00 AM - January 25, 2021
---
Monday Club #1
We are in the final three weeks of our Lottery for our Nepisiguit Sports Lodge Snowmobile Club. In the next weeks leading up to the draw on Feb 14 we will be pushing to sell our remaining tickets for the draw. (Note: See details and reasons for the draw by going to www.lottery.bathursttrails.com ) and support local tourism, which is all what our club is about. The draw will be prorated in case we don't get to sell the 1000 tickets. We are seeing a lot of tickets being sold with people spitting the cost of the ticks up to 10 people. The prize structure: First Place $25000, Second Place $10,000, Third Place $5,000, Fourth to Sixth place $1000, Seventh to Twelfth Place $500, Thirteenth to Twentieth $300, Twenty first to Thirty Sixth $100. Your odds of winning a prize is 1 in 27.
After a relatively busy weekend grooming we gave the #2 and #3 groomers the night off and left the #1 out grooming Piston Alley through last night. We put it up and down this signature trail twice to get it widened a bit more.
There are a lot of people really taking an interest in the Christmas Mountain Trail system. It could be the fact that there is not much snow or Trail closures elsewhere, but it is an awesome area with great views and great roads. I would advise topping up with gas at either Governors or Serpentine. If you take these extra loops.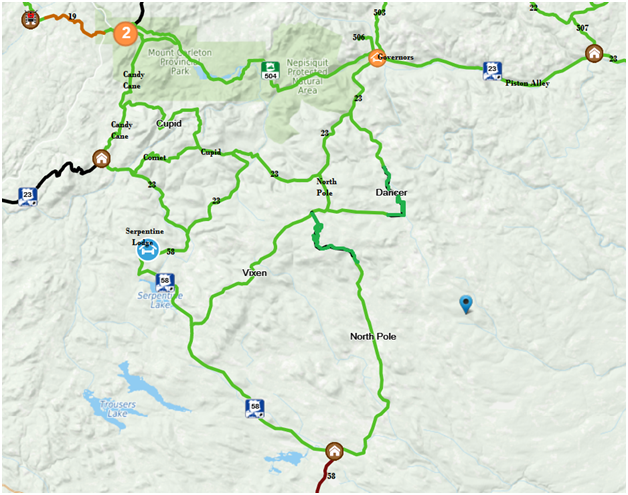 ADVERTISEMENT
ADVERTISEMENT
12:00 AM - August 02, 2023
11:00 AM - April 16, 2023
10:00 AM - April 14, 2023
10:00 AM - April 12, 2023
ADVERTISEMENT
ADVERTISEMENT