Trails Are Looking Up
09:00 AM - December 22, 2019
---
Sunday, Dec 22nd, Club #1
      I'll start with my good friend Andre's report. Trail 23 from Nepisiguit Lodge to Rogers Lake: "The Trail is great for the snow we got. He did an awesome job on Nine Mile". Rogers Lake to Governor's:"Awesome Sledding". Governors to Serpentine: "Made it to Serpentine. Trail is excellent. Unbelievable sledding." 
      We brought the #2 back from the Host yesterday to Nepisiguit. STILL NO CHANGE trail is closed for sledding. Fixed a lot of signage again plus cut overhanging branches. Need another foot of snow. 
      We put the #2 unit back out yesterday late in the day on Trail 22 from Rogers Lake. We felt the traffic warranted it. The drag on this unit weighs about 6000 lbs and a compacter on the back. When you lay that sucker down "it cuts". It does an awesome job.
      See previous post on Trail 504. We have to do some signage and also groom it which will probably be this week. I'm very proud of the job Ron Scott and his crew are doing with the trails. Doing our best with what we have to work with.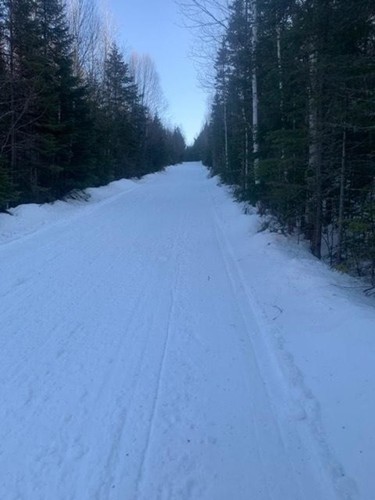 ADVERTISEMENT
ADVERTISEMENT
10:00 AM - December 03, 2023
02:00 PM - November 27, 2023
09:00 AM - November 22, 2023
10:00 PM - November 16, 2023
ADVERTISEMENT
ADVERTISEMENT