Trail 504 is Open after 10 Years of being Closed
10:00 AM - December 29, 2019
---
Sunday, Dec 29th, Club #1
     The Trail 504 is now officially open. Ron and Roger were through to Mt Carleton as far as the intersection of Trail 19. It took them about 20 hours, which included signage and cleanup. We'll try and do this trail within the confinements of the trail grooming guide. I'm sure there is still some signage to contend with. After a 22.5 hour run to Mt Carleton the #1 was back out again towards Serpentine and is still on the trail at post. 
     The #3 unit did the California loop last night. After the #1 is through with the Serpentine run all trails in our system that are able to handle grooming will have been done. There was plenty of traffic through the system yesterday with both parking lots at Nepisiguit and Rogers Lake being filled. 
     There are some loops open. The big one is the northern loop Trail 19 up the 24 over to the 22 through Charlo 22 down to Island Lake. There is also the 22, 17 through Kedgwick then 28 to St Quentin hooking up to 19 to Mt Carleton then 504 to the 23. We are still struggling in areas where we could use more snow, but all clubs with a smidgeling of snow are doing their best with what they have.
      The Nepisiguit Lodge is still closed due to no feeder trails are open to the lodge. We are in a wait and see for now. Not busy enough to be open on a regular basis yet. Joan will be there every day to see how it goes. Although there is a lot of sleds leaving from the Lodge, most use it just for parking.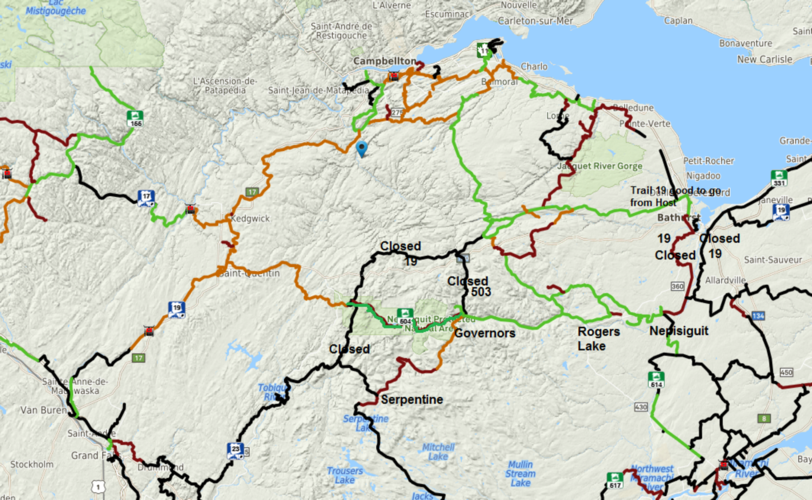 ADVERTISEMENT
ADVERTISEMENT
10:00 AM - December 03, 2023
02:00 PM - November 27, 2023
09:00 AM - November 22, 2023
10:00 PM - November 16, 2023
ADVERTISEMENT
ADVERTISEMENT