Temperatures Will be up Today + 7AM Update + 5.30 PM Update
09:00 AM - February 23, 2022
---
Update 5.30 PM: Well the weather really turned around. NO RAIN today. Once the temps drop tonight the groomers will be on the move.
Update 7AM : Weather has been downgraded to highs of +4 with sunny periods and very little rain and back to freezing by 8 PM this evening. PHEW! Another bullet dodged.
-5 and freezing pellets at post. We had about 10 to 15 cm fall in the Bathurst region overnight, ending around 3 a.m. this morning. At that time it had changed over to a light pellet/rain, which we are experiencing at post. The temperatures are supposed to go near + 10 deg Celsius today here in Bathurst. I'm doubtful at this time that there will be any grooming taking place today, however; we can expect some grooming tomorrow and we will notify via Bathurst trails when this will occur.
Trails were in very good shape yesterday especially after the grooming with Trails from Bathurst and Bass River through to Popple Depot and 503 over to Trail 19 being groomed.
On another note, our Wing Night special is on for Thursday night beginning at 5pm. This week's sponsor is discovery drills manufacturer owned my John and Darlene Labonville. Here is a little history on John's contribution to our snowmobile club. John and a few others were the co-founders off the Nepisiguit snowmobile club. John was also the first president of the now NBFSC. The club was founded in the early 70's and is probably the reason for Club #1. He and his wife, Darlene are both very active members of our club. Thank you John and Darlene.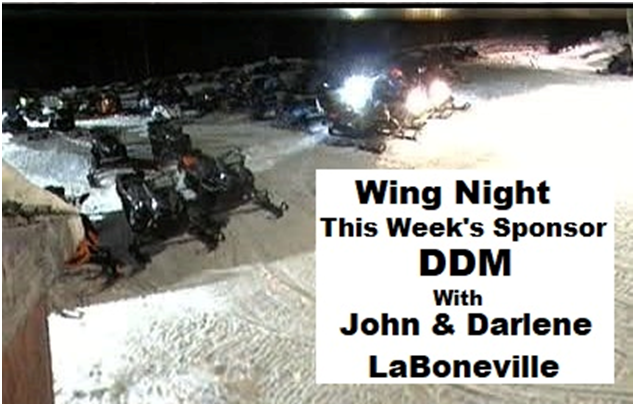 ADVERTISEMENT
ADVERTISEMENT
10:00 AM - December 03, 2023
02:00 PM - November 27, 2023
09:00 AM - November 22, 2023
10:00 PM - November 16, 2023
ADVERTISEMENT
ADVERTISEMENT