No Grooming Last Night
10:00 AM - March 08, 2023
---
Currently it is 2° C in Bathurst with temperatures going to 3° in the afternoon with sun. It looks like another great day for snowmobiling here in the Bathurst area.
I'm hearing that the Danny Burger run was a success. A big thank you to Big D Drive-In Restaurant & owner, Richard Dobson and Roger Lake for hosting the event.
The window for grooming is gradually going to have an effect on us as the temperatures are pretty soft during the day and -2 to -7 overnight. This effect is a bit earlier than most years, as we usually see this happening towards the end of March. Plus the fact that the sun is much higher as we get further into the season and even when you have days in the minus category, you still have that melt taking place. On the other hand, this weather makes for great snowmobiling where you don't have to worry about freezing.
Tomorrow night is Wing Night (5 to 8 PM) and this weeks sponsor is West End Sports https://www.westendsports.ca/
We will be putting a push on for our remaining 50/50 lottery tickets. It has been a bit slow on sales so for those who have not purchased theirs, you have about 3 weeks remaining to do so. Remember that all funds raised go right back into the trail grooming, which we do a lot of. We have gone through some major expenses in the last three years with the purchasing of two groomers, So if you haven't purchased a ticket yet, it is easy to do so by clicking the "Lottery" logo at the top of the page or in person at our Nepisiguit Sports Lodge.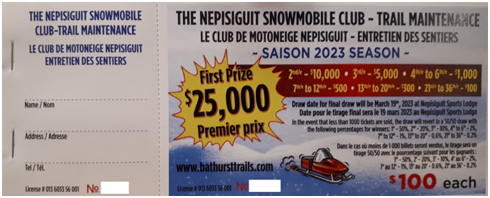 ADVERTISEMENT
ADVERTISEMENT
12:00 AM - August 02, 2023
11:00 AM - April 16, 2023
10:00 AM - April 14, 2023
10:00 AM - April 12, 2023
ADVERTISEMENT
ADVERTISEMENT