No Grooming again Last Night + Last Day for on-line Lottery Ticket
10:00 AM - March 19, 2023
---
It was another night of no grooming as temperatures and some rain last night wouldn't alow us to groom, but it looks good for the next 3 days. With temperatures down below zero tonight and the next few days we will have the groomers out for sure. I'm sure the trails had taken a beating with this mild spell plus the traffic with the mussel event at Rogers Lake. Luck was on their side with no rain as it was forecasted. All went well for them.
It is that time of the year where we are at the hands of the weather Gods, but surpisingly going forward, it does not look all that bad and we could see trails into April. Reflecting back to early January we thought everything may have been over at this time, but we're still hanging in there.
You have until this evening for purchasing your 50/50 lottery ticket on-line. You can possibly get one in person after this Sunday by contacting us. The draw will take place at Nepisiguit Lodge on Wednesday evening from 6.30 to 7.30 PM. We are sure at this time that all tickets will not be sold, so we will revert to a 50/50 percentage of all prizes.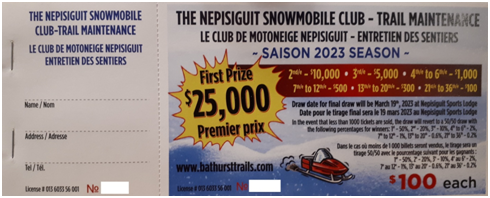 ADVERTISEMENT
ADVERTISEMENT
12:00 AM - August 02, 2023
11:00 AM - April 16, 2023
10:00 AM - April 14, 2023
10:00 AM - April 12, 2023
ADVERTISEMENT
ADVERTISEMENT