Need a bit more Snow+ Update #1 + Update #2
10:05 AM - December 28, 2021
---
Update #2: 3 PM. The groomer did the Austin Brook Cluster Trail 502 on the way back to Rogers Lake.
Update #1 8 AM: Correct my first entry below. We are running the groomer back to the Lodge. It is currently in Gloucester Junction on Trail 19. It should arrive at Nepisiguit by 10 AM. From there it will continue grooming West on Trail 23.
Tuesday, Dec 28th, 2021, Club #1 We are gradually getting there, but we could use a bit more snow from Highway 430 in Blue Mountain to the Atlantic Host in Bathurst on Trail 19 (accessible by hard core). Yesterday we groomed from the Nepisiguit Lodge down Trail 19 as far as Blue Mountain near Highway 430, then back over to our shop in East Bathurst on Trail 19. That section it became evident that there wasn't enough snow to groom properly, but we did continue to the shop. Ron will float the groomer back towards the lodge today. So if anyone wants to leave from East Bathurst on Trail 19, even though the trail has been at least tramped and has seen a drag, it is passable. We will not groom it anymore until we get more snow. The same goes for the section of Trail 19 from Big River to the Atlantic Host.
It looks a little promising for more snow through this weekend with a few cm most days. Lodge will be open with limited staff and hours until traffic picks up as there are no links groomed from the Miramichi and the Peninsula ie Trails 52, 48, 23, 19.
Parking Lot at Nepisiguit. Dec 27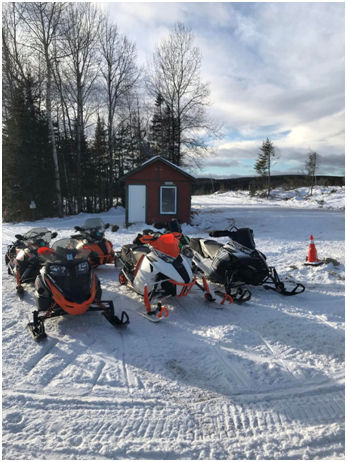 Note: Sign is gone at Nine Mile Shelter. Blew down with the wind. Working on it

ADVERTISEMENT
ADVERTISEMENT
12:00 AM - August 02, 2023
11:00 AM - April 16, 2023
10:00 AM - April 14, 2023
10:00 AM - April 12, 2023
ADVERTISEMENT
ADVERTISEMENT