It's Cold out There This Morning
10:00 AM - January 18, 2020
---
Saturday, Jan 18th, Club #1
     -20 with a -30 wind chill. We dodged a bullet yesterday morning with the ditching of our workhorse #1 groomer (see yesterday's post). As you know we're down to two groomers of which the #1 does 75% of the grooming. We just got word that the #2 will be out of action for as much as two weeks and as little as one week. One positive with these low temps, which is the lowest we've seen this year, is that the set-up time is within 20 to 30 minutes. 
     Due to the cold temps traffic was moderate and steady on the trail system and with these conditions we're urging everyone to drive safe as an accident could be life threatening.  
     Grooming last night: #1 from Rogers Lake on 23 507 and 22 to 22/301 return on 22 to Nine Mile shelter then doubling back to Rogers Lake. The #3 was out of Nepisiguit on 23 to Rogers Lake and is on the way back to Nepisiguit at post.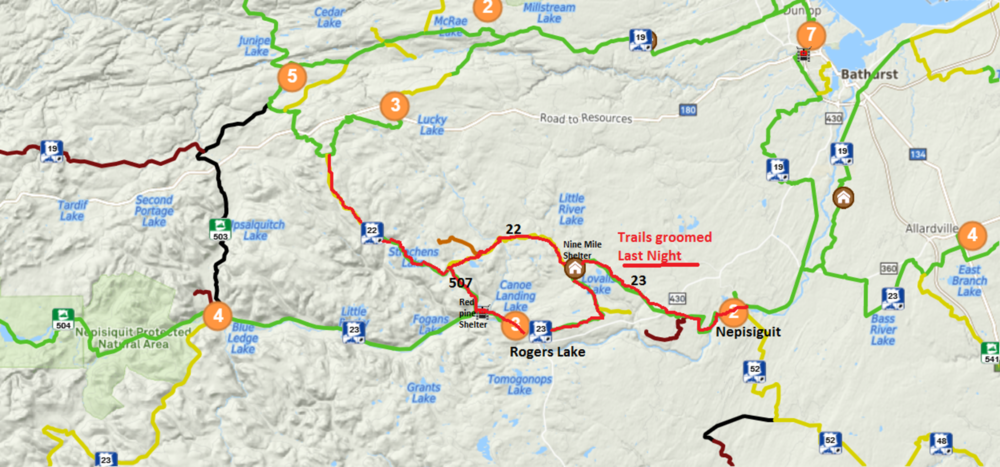 ADVERTISEMENT
ADVERTISEMENT
11:00 AM - April 16, 2023
10:00 AM - April 14, 2023
10:00 AM - April 12, 2023
10:00 AM - April 11, 2023
ADVERTISEMENT
ADVERTISEMENT