How Much Snow + Update 9am
10:00 AM - March 15, 2023
---
Update 9am: It is minus 1° C here in Bathurst at post. There is approximately 4 cm of snow down and is currently not snowing at post. It looks like anywhere is from 2 to 6 more centimeters is in the forecast. The temperatures will remain below zero into the evening so the groomers will be out at that time. The temperatures in The High Ground will be a little lower. Have a good day and get out and enjoy the trails.
First and foremost. This is the last week for purchasing your 50/50 lottery tickets. It has been a bit slow on sales so for those who have not purchased theirs, you have 5 days remaining to do so on-line until the on-line is cut off on Sunday evening March 19. The draw will take place at Nepisiguit Lodge on Wednesday evening from 6.30 to 7.30 PM. Remember that all funds raised go right back into the trail grooming, which we do a lot of. We have gone through some major expenses in the last three years with the purchasing of two groomers, So if you haven't purchased a ticket yet, it is easy to do so by clicking the "Lottery" logo at the top of the page or in person at our Nepisiguit Sports Lodge. Check out the prize structure on our ticket below.
It is snowing here in Bathurst and all indications is that we'll end up with approximately 20 cm, but I'm afraid it will be of the heavy wet variety, so grooing will be a chalenge, but hopefully enough sled traffic will help pac in the snow. Ron will have a schedule out as soon as the weather is favorable. I will try to give you periodic updates.
Tomorrow night is wings night at the lodge and is cosponsored by two business' from the Halifax area. MacKay Motor Sports & Wolf Collision Ltd.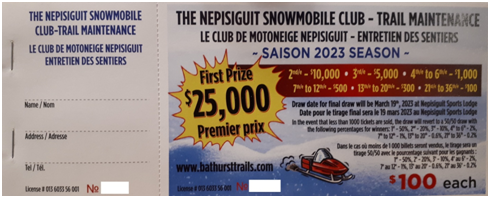 ADVERTISEMENT
ADVERTISEMENT
12:00 AM - August 02, 2023
11:00 AM - April 16, 2023
10:00 AM - April 14, 2023
10:00 AM - April 12, 2023
ADVERTISEMENT
ADVERTISEMENT