Grooming yesterday and this AM + Wing Night
10:00 AM - March 16, 2023
---
Good morning from Bathurst. -2 at post. Wow! Storm of the century. A whopping 10 cm. We'll call it the St Patrick's nephew's storm.
Ron had the groomers out earlier than expected in the afternoon and are still on the trail at post. It wasn't the predicted snowfall with close to 10 cm at best. Grooming last night had the #2 groom Trail 19 from East Bathurst to the Atlantic Host and then back to Nepisiguit Lodge and a change of operators and continued on to Rogers Lake on Trail 23. It also did the 502 into Austin Brook, 509 into Shady Lane, Bouchy Brook Cluster. It is still on the trail at post. The #1 was out of Rogers Lake on Trail 23 to 507, Trail 22 north to the 301/22 intersection, then south on 22 to Nine Mile Shelter, back on 22 north to 507, Red Pine Shelter and back to Rogers Lake for an opperator change and it proceeded back on 23, Piston Alley to Governors and Popple Depot. It did the 506. It is still on the trail at post and will continue on the 503 to Trail 19 (Simpson Fields) and back. GREAT JOB BY RON AND CREW. BRYAN & JACOB ON #2, FRANCOIS AND MICKEY ON #1.
Tonight is Wing Night at the Nepisiguit Lodge from 5 to 8 PM and is cosponsored by two business' from the Halifax area. MacKay Motor Sports & Wolf Collision Ltd. https://www.wolfcollision.com/ https://www.facebook.com/Mackay-Motorsport-108121720967222/
This is the last week for purchasing your 50/50 lottery tickets. For those who have not purchased theirs, you have 4 days remaining to do so on-line until the on-line is cut off on Sunday evening March 19. The draw will take place at Nepisiguit Lodge on Wednesday evening from 6.30 to 7.30 PM. Remember that all funds raised go right back into the trail grooming, which we do a lot of. We have gone through some major expenses in the last three years with the purchasing of two groomers, So if you haven't purchased a ticket yet, it is easy to do so by clicking the "Lottery" logo at the top of the page or in person at our Nepisiguit Sports Lodge. Check out the prize structure on our ticket below.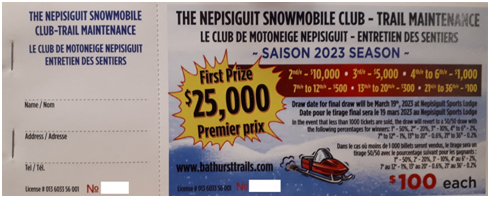 ADVERTISEMENT
ADVERTISEMENT
12:00 AM - August 02, 2023
11:00 AM - April 16, 2023
10:00 AM - April 14, 2023
10:00 AM - April 12, 2023
ADVERTISEMENT
ADVERTISEMENT