Grooming Yesterday and Last Night + Update 8AM
08:00 AM - March 14, 2021
---
Sunday Club #1
Update 8.20 AM: In approximately 24 hours we groomed all main trails in our system, Trail 19 from Bass River and Bathurst, Trail 22, Trail 23 to Popple Depot/ Governors, 503. See map s below. The boys did a very comendable job. Mickey is still on the Trail 503 and should be back at Rogers Lake around 1 PM.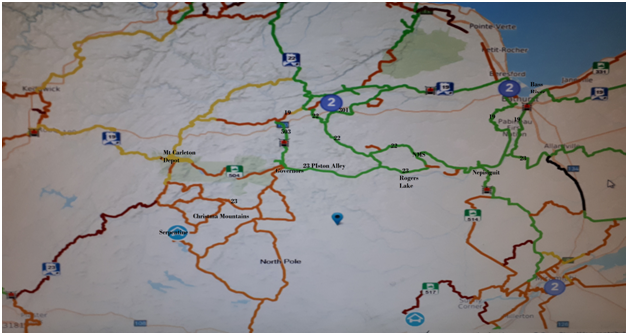 Since the temps cooled off yesterday morning Ron decided to put the groomers out early. The # 1 left Roger Rogers lake east on 23 to NMS, headed to 22 north to the 22/301 intersection, then back out to 507down to Red Pine shelter, it turned there and backtracked to Rogers Lake via the cal Loop, NMS and into Rogers Lake. Mickey took over the groomer at that point and headed to Popple Depot and over the 503 sometime last night. #2 groomer with Bryan did trail 19 down to Bass River. Turned there and headed Trail 19 West to the Atlantic Host, fueled then headed back to Nepisiguit to Nine Mile Shelter. From there he headed back to East Bathurst on Trail 23 and 19.
With the sudden drop in temperatures the trails ended a bit on the hard and rough surface. As you see we got out as early as we did from the thaw on Wed, Thurs & Fri. With this grooming we should have the trails back close to normal. There has been decent trffic on the trails though to today.
ADVERTISEMENT
ADVERTISEMENT
10:00 AM - December 03, 2023
02:00 PM - November 27, 2023
09:00 AM - November 22, 2023
10:00 PM - November 16, 2023
ADVERTISEMENT
ADVERTISEMENT