Grooming over the LasTwo Days
10:00 AM - February 15, 2023
---
Second Warning: We got a call from NB Power at the Hydro Dam. They have snowmobiles running on the Head Pond at Nepisiguit Power Dam that come precariously too close to the Dam and are very concerned with this practice as there is only 2 inches of ice near the dam. This practice has got to stop. If not, this trail across the Head Pond may cease to exist.
Grooming over the past two days plus last night. We've groomed from the Atlantic Host in Bathurst to Bass River on trail 19 at least twice. We groomed Trail 23 from Route 360 on "The Line" all the way to Governors Lodge again almost twice. Trail 22 from 9 Mile shelter through to the 22/301 intersection. We've also groomed all clusters plus all local trails 500, 501, 502, 503, 505, 506, 507, 508, 509. The trails should be in decent shape. I'm guesstimating 9 out of 10.
Don't forget to check out Thursday night's Wing Night is sponsored Bathurst Tire. Thursday, from 5 to 8 PM. Always a good time. They have donated a propane gas grill for tonight's prize. (Tickets 3 for $5.00) https://www.facebook.com/people/Bathurst-Tire-Sales-Service/100075804044690/
Safety: STOP AHEAD means that there is a stop sign at least 100 meters ahead. When you see this sign please slow down to address the stop sign. When you get to the stop sign it means what it says STOP. It doesn't mean ""step on it"". There are many stop signs on the trail system and some cross public driveways. You may think this is funny, but it is very serious, so please obey the stop signs and if you notice that there is a stop ahead or a stop sign missing please contact the club responsible for these signs.
With just 6 weeks left for purchasing our lottery ticket you can purchase your ticket on line by clicking the lottery logo at the top of the page or the URL at the bottom of the page or at our Nepisiguit Lodge and or the people listed below. https://www.lottery.bathursttrails.com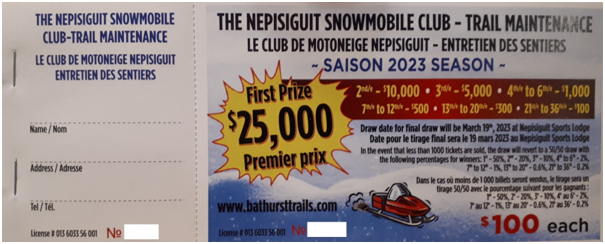 ADVERTISEMENT
ADVERTISEMENT
12:00 AM - August 02, 2023
11:00 AM - April 16, 2023
10:00 AM - April 14, 2023
10:00 AM - April 12, 2023
ADVERTISEMENT
ADVERTISEMENT