Groomers are out.
09:50 AM - February 20, 2020
---
Thursday, Feb 20th, Club #1
            -19 at post and it is looking like another busy weekend on the trails. We have our three groomers on the trails at post . The #1 & 3 groomers were out early last night around 8ish. The Big Blue was down to the highway 360 then back towards Nine Mile Shelter and will end up at Nepisiguit this morning. The #1 was out of Rogers Lake and up Piston Alley (Trail 23) and is over on the 503 and it will backtrack to Rogers Lake up to Nine Mile Shelter. It looks like Ron & Roger fixed the #3 problem on Tuesday as it did the Cal Loop and the 507 + 22 up to the 22/301 intersection over Tuesday night and Wednesday morning. Bryan is taking the #2 from the shop in East Bathurst over to the Atlantic Host. It spent most of the day down 19 and the 331 and returned to the shop area early last evening. See Maps below.
       I spoke to some lads from Parsboro and they said trails were excellent all over. There was a bit of drifting from the snow we had over Tuesday night and it was still galing into last night. Andre (PEI) said the same thing about conditions. We had a great supper last night and will report on it later this morning. Be careful out there as the season is half over and we don't want you hurting yourself or better yet, Someone else! 
       I've been noticing numerous clubs from around the province and also in Nova Scotia and PEI having notices put to snowmobilers to "STAY ON MARKED TRAILS". All clubs have gone through agreements with landowners to cross their land for trail use through their property. If we continually ignore these privileges, the possibility of losing these trails is very evident. These private crossings are essential in maintaining the snowmobile trail infrastructure that we have and abuse by free riding over these properties puts this infrastructure in jeopardy. Please stay on the trails while riding across farmers fields and private properties.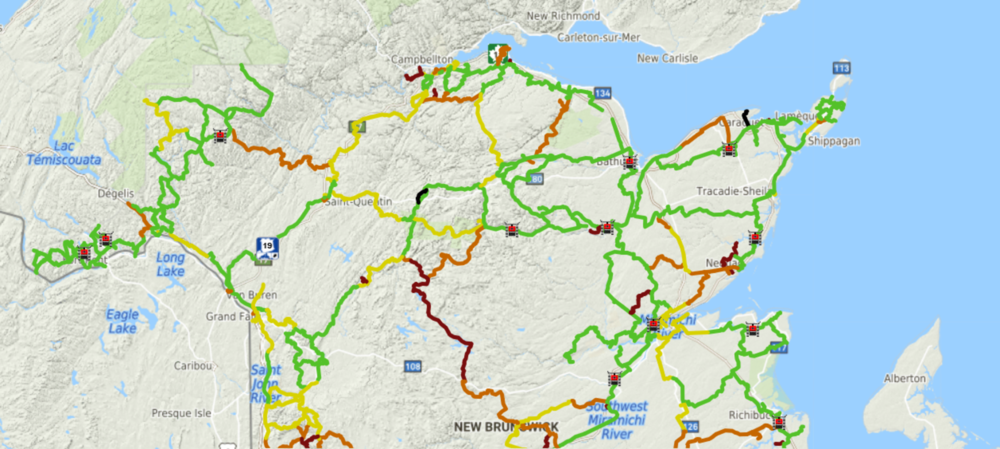 ADVERTISEMENT
ADVERTISEMENT
10:00 AM - December 03, 2023
02:00 PM - November 27, 2023
09:00 AM - November 22, 2023
10:00 PM - November 16, 2023
ADVERTISEMENT
ADVERTISEMENT