Groomed Last night + Update 7.20 AM + Update 11.45 AM + update 4.50 PM
09:15 AM - January 17, 2020
---
Update 4.50 PM  #1 groomer is at Nepisiguit from the Host. Finishes at Rog Lake tonight 8 PM
Update: 11.45 AM.  #1 Groomer is out. Excavator assisted. Had to reinstall a track that came off.  All in -16 degree Temp. Good work Ron & Roger + W.M. Doucet's excavator Neil Doucet
Up date 7.20 AM  Our #1 groomer is in a deeeep ditch about 4 Km from Host. Working at getting an excavator at present.  SEE MAP
Friday, Jan 17th, Club #1
      -15 at post in Bathurst and with two good sub zero nights and lots of traffic the snow is cooperating. Both groomers were out again last night and we got Bathurst covered both to the Host and to Bass River on Trail 19 East & West. The #1 is still on the trail back to Rogers Lake and I'm sure Ron will have them out again tonight. 
     Trails above the Lodge are in decent shape, but always need maintenance at least every three days. All clubs are grooming now in the Northeast so there are a lot more loops opening up. The logging operation on Trail 19 was supposed to have been finished by Jan 15, but no official word has been received. The Federation will let us know.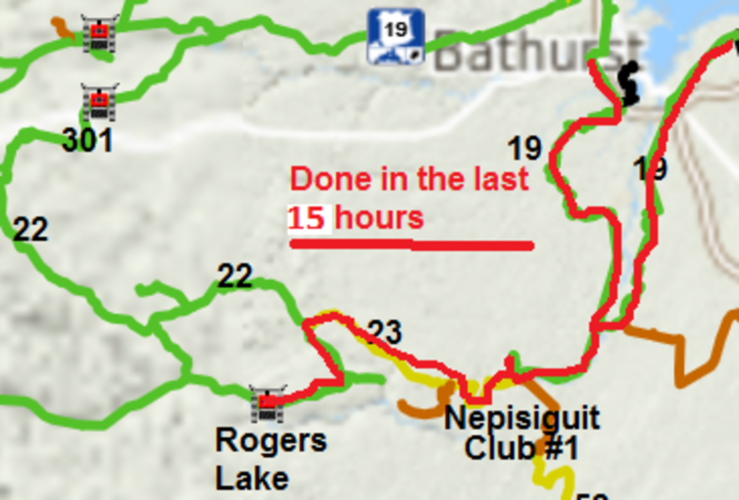 ADVERTISEMENT
ADVERTISEMENT
12:00 AM - August 02, 2023
11:00 AM - April 16, 2023
10:00 AM - April 14, 2023
10:00 AM - April 12, 2023
ADVERTISEMENT
ADVERTISEMENT