Good Sledding Weather + Update 10 AM
09:55 AM - February 23, 2020
---
Update 10 AM:  #1 still on the trail. Ran from Rogers Lake  23, 507, 22 to the 301/22 intersectio back to Rogers Lake then down to Nepisiguit on Trail 23 and is on the way back to Rogers Lake at post.
#2 ran from Atlantic Host to Nepisiguit and back to the Host. (trails 19 & 23) Currently parked.
 Trails 8 to 10
Sunday, Feb 23rd, Club #1        
     -5 at post in Bathurst. Our two running groomers were out again last night on their 10 to 12 hour runs. 
     With zero temps we're into April type grooming hours. Looking at the temperature trends for the next two weeks shows a strong trend towards the same along with not much snowfall. This has been an excellent year so far for sledding and grooming with just the right amounts of snowfalls from time to time and looking back there isn't too many years that we can find the same conditions, especially province wide. The Farmers Almanac gives you a trend, but I find their forecasts a little to be believed. These next two weeks are going to be excellent for sledding. See attached temperature trends. 
 Same safety message as yesterday: Please let us keep safety in mind. Slow down on turns, especially to those who are unfamiliar with the trails. About 15% of our trails are cut out of old roads that are not summer maintained except for the clubs that use them. THEY ARE NOT ENGINEERED ROADS.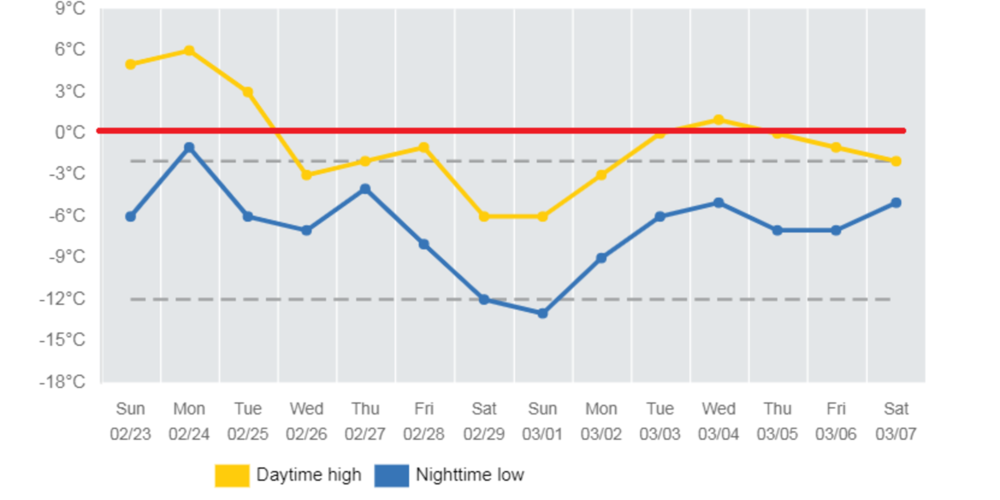 ADVERTISEMENT
ADVERTISEMENT
12:00 AM - August 02, 2023
11:00 AM - April 16, 2023
10:00 AM - April 14, 2023
10:00 AM - April 12, 2023
ADVERTISEMENT
ADVERTISEMENT