30 Cm of Snow over Two Days = Update 3.30 PM
05:00 AM - March 09, 2022
---
Update: 3.30 PM Groomers will be out tonight.
Traffic is continually on the rise here in the North. The lodges were extremely busy last week. We be in for busy end of season giving what I'm seeing with the weather over the next couple of weeks.(could be a little burp on Saturday) Let's hope it continues well into March. Our two groomers were out last night. The #1 was out of Rogers Lake West on Trail 23 up the 507 then on Trail 22 to Nine Mile Shelter and down to the Highway 430 on 23 then back to Rogers Lake.. Did all clusters on the California Loop. The #2 was on trail 23 to highway 430 then back to The Nepisiguit and down to Atlantic Host on trail 19. It then returned to Nepisiguit. The #3 Big Blue is still waiting for tires and we're hopeful that it can be repaired by this weekend. Well we passed one day where the price of fuel didn't increase. What a joke and when you think we are an oil producing nation.
We have exactly 12 days remaining before the draw date of March 20 to purchase your Nepisiguit Club Lottery Ticket. We are over the 50% sales in tickets sold so far and if all tickets aren't sold, the draw will revert to a 50/50 draw as indicated on the ticket. We are asking those who haven't purchased their ticket yet to help us reach our goal of 1000 tickets. You can purchase tour ticket the easy way On-Line by clicking here https://www.lottery.bathursttrails.com/ or pick up your ticket at our at the lodge. This is our only major fundraiser and we are counting on your support as this is a major item in going to fund the grooming of the trails. If you haven't purchased a ticket yet it is very easy to do so by either on-line or by the list of these sellers posted in previous post.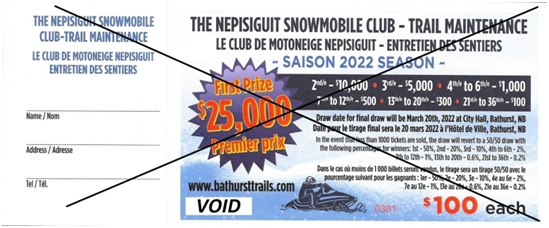 ADVERTISEMENT
ADVERTISEMENT
02:00 PM - December 08, 2023
12:00 AM - December 05, 2023
06:00 AM - December 03, 2023
10:00 AM - November 27, 2023
ADVERTISEMENT
ADVERTISEMENT